WAREHOUSING INFRASTRUCTURE
To respond to the varying needs of clients, Mooneh continues to invest in Temperature Controlled-Warehousing Infrastructure designed to maintain various temperature levels for a variety of products according to the best practices of international standards.
By offering its temperature controlled warehouse solutions or cold chains, Mooneh is ensuring that perishable goods are protected from extreme temperatures and temperature change, for Mooneh's warehouses are designed to cater to regular goods, particularly specialized and highly sensitive products.
our best in class techs
quality management system
techonlogy and inovation
Technology is a vehicle that enhances the quality of people's lives, which is why Mooneh invests in providing hi-tech temperature-controlled warehousing and distribution solutions. Mooneh's facilities are equipped with Fresh- Ventilation, Insulation, controlled humidity, and ripening & fumigation systems thus maintaining product quality by using best-in-class available technology to support requirements of all sectors including: FMCG's, pharmaceutical, and electronic manufacturers. Mooneh emphasizes consistency and reliability to live up to its motto of optimum product integrity.
Quality Measures
Operational Utilization (OU) is paramount, but can never be achieved without demonstrating compliance with quality measures enforced within temperature controlled warehousing.
As the first private logistics company in Jordan to offer transparent systemization for product logs, Mooneh continues to strive for excellence and innovation through maintaining internal standards and international best practices.
Mooneh has a routine maintenance procedure that focuses on sanitary conditions, keeping equipment calibrated, as well as perform system audits and preventive actions; furthermore, the company has obtained all the required compliance certifications to work in the field of logistics with its multi faceted sectors.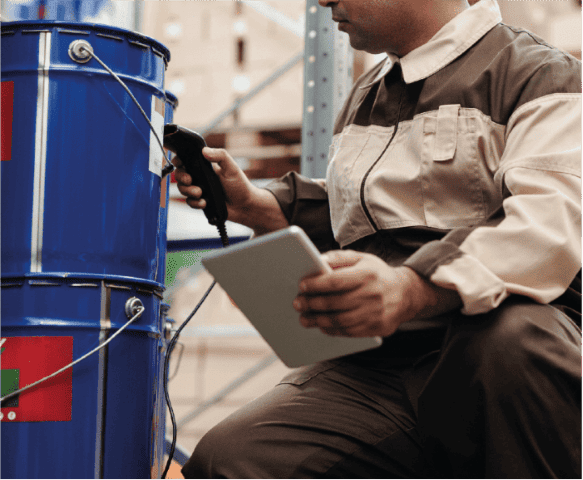 it infrastructure
Mooneh effectively manages customer expectations so that its operations adhere to recent online trends as well as: clients growing service expectations and their much more detailed orders. With new adopted approaches in distribution and advanced forecasting procedures such as: predictive analytics of internal data combined with machine status data for predicting demands. In doing so, Mooneh adopts a much more effective way of handling expectations and generating accurate results.
secure parameters
Mooneh offers its clients highly safe grounds for storing goods in their bonded and non bonded premises. Furthermore, Mooneh covers a round the clock electronic surveillance of 24 hours for seven days a week, in addition to routine security inspections that are key regulatory procedures performed to guarantee cargos safety.
trusted by: 🗸 jordan customs 🗸 jordan food & drug administraion 🗸 ministry of agriculture